Welcome to the Spring 2018 YA Scavenger Hunt!
It's actually starting to feel like spring here in Las Vegas (okay, maybe summer) and I am so excited to be participating in the YA Scavenger Hunt yet again.

I'm your host for this stop on the GREEN TEAM hunt.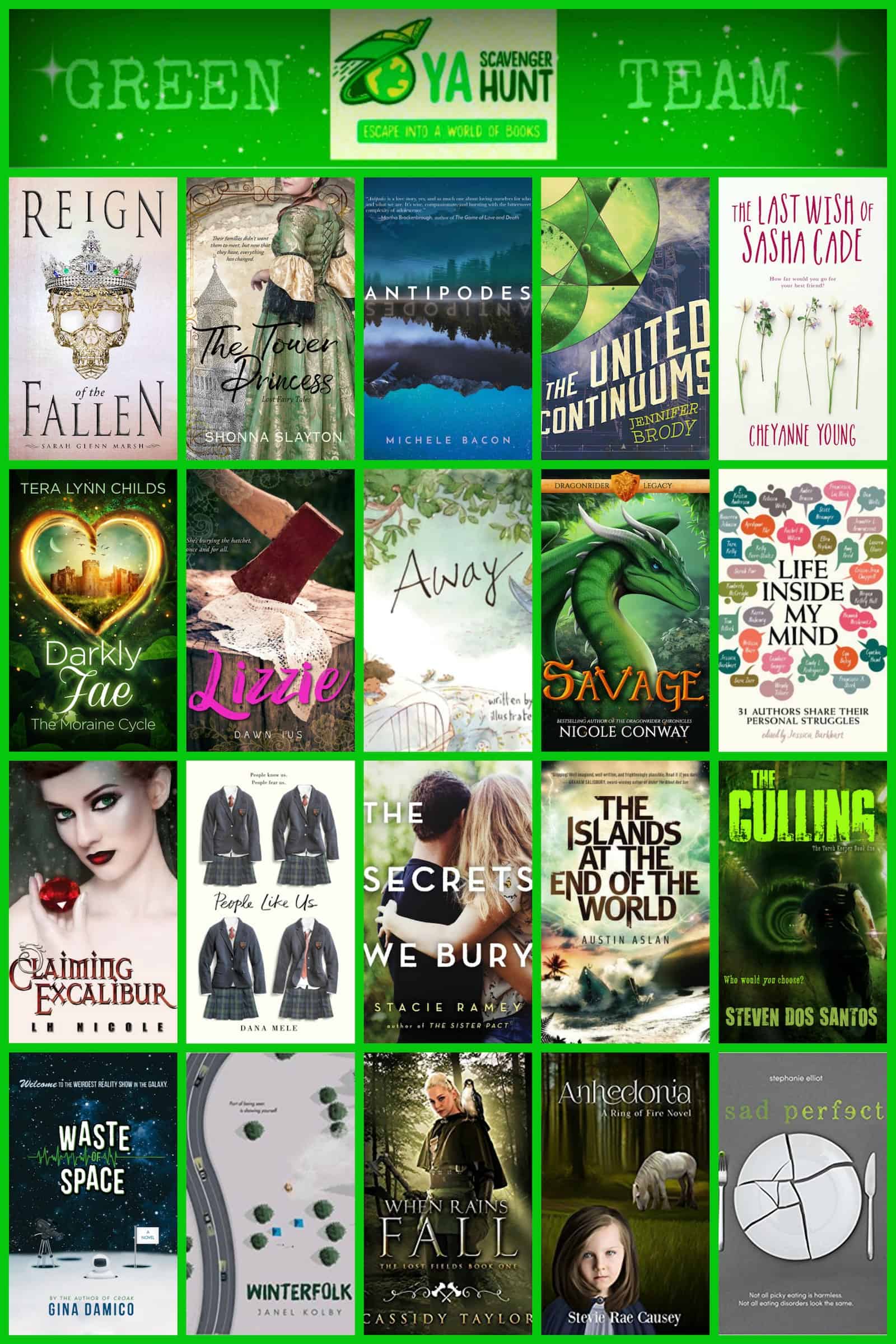 Are you looking for my exclusive bonus content? Well, you'll have to keep hunting. It's hiding somewhere in the pages of the GREEN TEAM…
YA Scavenger Hunt Rules
Directions: Below, you'll notice that I've listed my favorite number. Collect the favorite numbers of all the authors on GREEN TEAM, and then add them up (don't worry, you can use a calculator!)
HINT: THE SECRET NUMBER IS HIGHLIGHTED IN GREEN
Entry Form: Once you've added up all the numbers, make sure you fill out the form to officially qualify for the grand prize. Only entries that have the correct number will be counted.
Rules: Open internationally, anyone below the age of 18 should have a parent or guardian's permission to enter. To be eligible for the grand prize, you must submit the completed entry form by SUNDAY, APRIL 8TH, at noon Pacific Time. Entries sent without the correct number or without contact information will not be considered.
On this hunt, you not only get access to exclusive content from each participating YA author, you also get a secret number. Add up the numbers, and enter it for a chance to win a major prize–one lucky winner will receive at least one print book from each author on my team in the hunt. But play fast. This contest (and all the exclusive bonus material) will only be online until noon PST on Sunday, April 8th.
There are SIX contests going on simultaneously, and you can enter one or all. I am a part of the GREEN TEAM, but there are also RED,  GOLD, PURPLE, BLUE & PINK teams. Check out each team for a chance to win even more sets of signed books.
Find out more about the hunt, see links to all the authors participating, and see the full list of prizes up for grabs, the YA Scavenger Hunt page.
Now on to the hunt…
---
Today I am thrilled to host author SARAH GLENN MARSH!
Sarah Glenn Marsh is an author of young adult novels including Reign of the Fallen and Fear the Drowning Deep, as well as children's picture books like Selfie Sebastian and A Campfire Tail. An avid fantasy reader from the day her dad handed her a copy of The Hobbit and promised it would change her life, she's been making up words and worlds ever since. She lives in Virginia with her husband and their tiny zoo of four rescued greyhounds, three birds, and many fish.
Check out her amazing-sounding book, REIGN OF THE FALLEN!

Odessa is one of Karthia's master necromancers, catering to the kingdom's ruling Dead. Whenever a noble dies, it's Odessa's job to raise them by retrieving their soul from a dreamy and dangerous shadow world called the Deadlands. But there is a cost to being raised: the Dead must remain shrouded. If even a hint of flesh is exposed, a grotesque transformation begins, turning the Dead into terrifying, bloodthirsty Shades.

A dramatic uptick in Shade attacks raises suspicions and fears around the kingdom. Soon, a crushing loss of one of her closest companions leaves Odessa shattered, and reveals a disturbing conspiracy in Karthia: Someone is intentionally creating Shades by tearing shrouds from the Dead–and training them to attack. Odessa is forced to contemplate a terrifying question: What if her magic is the weapon that brings the kingdom to its knees?

Fighting alongside her fellow mages–and a powerful girl as enthralling as she is infuriating–Odessa must untangle the gruesome plot to destroy Karthia before the Shades take everything she loves.
View On: Amazon | Barnes & Noble | Indiebound | Goodreads
My secret number is 11.
Time for the bonus content…
---
Today Sarah is sharing the official REIGN OF THE FALLEN playlist—with some songs matched up with certain characters. How fun!
Battlefield by Svrcina — the book's theme song
Is There Somewhere by Halsey — Odessa & Evander
Heathens by Twenty One Pilots
When it Comes To Us by Frances — Simeon & Danial
Young God by Halsey — Odessa & Jax
Running with the Wolves by Aurora — Meredy
Forfeit by Chevelle — Jax
I Will Not Bow by Breaking Benjamin — Odessa
Strangers by Halsey and Lauren Jauregui — Odessa & Meredy
Bow Down by Chvrches — Valoria
Control by Halsey — Odessa
Dare by Daya — Kasmira
Arise by Flyleaf
Castle by Halsey — Valoria
Lover. Fighter by Svrcina — Danial
Until the End by Breaking Benjamin
You can also listen to the whole playlist over on Spotify by clicking here!
---
Find out more about Sarah on her website, connect with her on Twitter, Pinterest, and Goodreads, and grab your copy of REIGN OF THE FALLEN right here.
---
NOW don't forget to enter the contest for a chance to win a ton of print books by me, Sarah, and many more. To enter, you need to write down my favorite number, find all the other numbers on GREEN TEAM add them up, and you'll have the secret code to enter for the grand prize.
Need help?
Instead of a bonus contest, I'm giving away a free story. You can win a print copy of Darkly Fae in the main GREEN TEAM prize, but you can grab the first novella in the collection (When Magic Sleeps) right here, right now. You'll have to enter your email address for delivery, but unless you check the box to be added to my mailing list, you won't be. You should, though. I'm just saying.
Good luck and happy hunting!
To continue on the GREEN TEAM hunt, you'll need to visit… STEPHANIE ELLIOT.