Welcome to the Fall 2018 YA Scavenger Hunt!
It's that time of year again and I am so excited to be participating in the YA Scavenger Hunt yet again.

I'm your host for this stop on the GOLD TEAM hunt.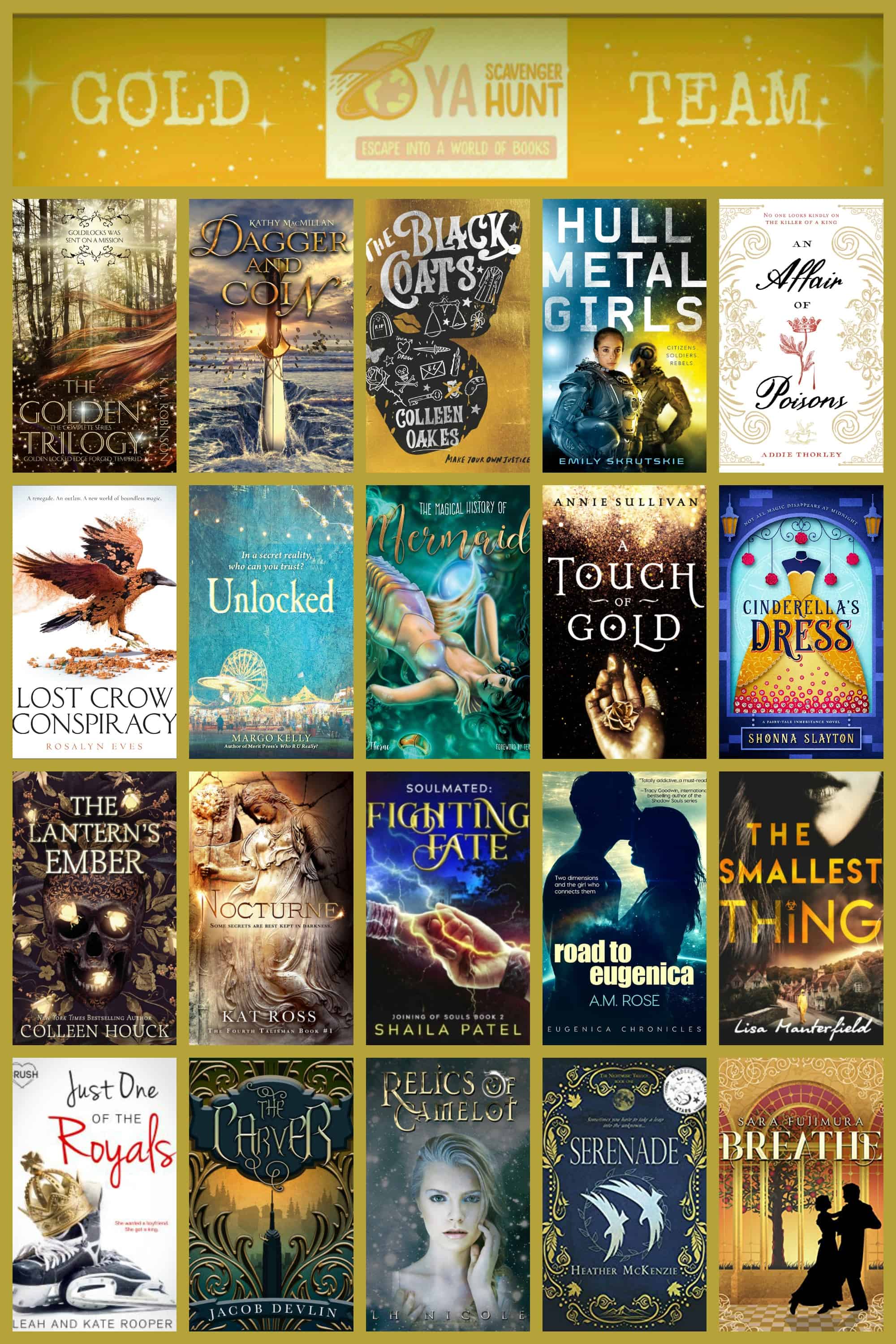 Are you looking for my exclusive bonus content? Well, you'll have to keep hunting. It's hiding somewhere in the pages of the GOLD TEAM…
YA Scavenger Hunt Rules
Directions: Below, you'll notice that I've listed my favorite number. Collect the favorite numbers of all the authors on GOLD TEAM, and then add them up (don't worry, you can use a calculator!)
HINT: THE SECRET NUMBER IS HIGHLIGHTED IN GOLD
Entry Form: Once you've added up all the numbers, make sure you fill out the form to officially qualify for the grand prize. Only entries that have the correct number will be counted.
Rules: Open internationally, anyone below the age of 18 should have a parent or guardian's permission to enter. To be eligible for the grand prize, you must submit the completed entry form by SUNDAY, OCTOBER 7TH, at noon Pacific Time. Entries sent without the correct number or without contact information will not be considered.
On this hunt, you not only get access to exclusive content from each participating YA author, but you also get a secret number. Add up the numbers, and enter it for a chance to win a major prize–one lucky winner will receive at least one print book from each author on my team in the hunt. But play fast. This contest (and all the exclusive bonus material) will only be online until noon PST on Sunday, October 7th.
There are SEVEN contests going on simultaneously, and you can enter one or all. I am a part of the GOLD TEAM, but there are also RED, ORANGE,  GREEN, PURPLE, BLUE & PINK teams. Check out each team for a chance to win even more sets of signed books.
Find out more about the hunt, see links to all the authors participating, and see the full list of prizes up for grabs, the YA Scavenger Hunt page.
Now on to the hunt…
---
Today I am thrilled to host author LISA MANTERFIELD!
Lisa Manterfield is the award-winning author of The Smallest Thing and A Strange Companion. Her work has appeared in The Saturday Evening Post, Los Angeles Times, and Psychology Today. Originally from northern England, she now lives in Northern California with her husband and over-indulged cat. Learn more at LisaManterfield.com.
Check out her book, THE SMALLEST THING!
"The very last thing 17-year-old Emmott Syddall wants is to turn out like her dad. She's descended from ten generations who never left their dull English village, and there's no way she's going to waste a perfectly good life that way. She's moving to London and she swears she is never coming back.

But when the unexplained deaths of her neighbors force the government to quarantine the village, Em learns what it truly means to be trapped. Now, she must choose. Will she pursue her desire for freedom, at all costs, or do what's best for the people she loves: her dad, her best friend Deb, and, to her surprise, the mysterious man in the HAZMAT suit?

Inspired by the historical story of the plague village of Eyam, this contemporary tale of friendship, community, and impossible love weaves the horrors of recent news headlines with the intimate details of how it feels to become an adult—and fall in love—in the midst of tragedy."
To enter the big giveaway, you need to know that my secret number is 11.
Time for the bonus content…
---
Today I am so excited to get to reveal the cover for her forthcoming book, Thicker Than Water, as well as an exclusive excerpt. Woot!
I'll let Lisa introduce the book…
It's hunt time and I'm so pleased to be participating in the Young Adult Scavenger Hunt again.

If you've read A Strange Companion or The Smallest Thing, you'll know I'm sort of fascinated by death and human psychology. My next book blends both as I unfold the story of an outcast teen who must betray her family's secrets to prove her father innocent of her sister's murder.

I'm so excited to give you a sneaky peeky inside the book and a first look at the cover!

Thicker Than Water comes out next year (which isn't that far away!), so be sure to sign up for my newsletter for updates, bonus goodies, and launch fun.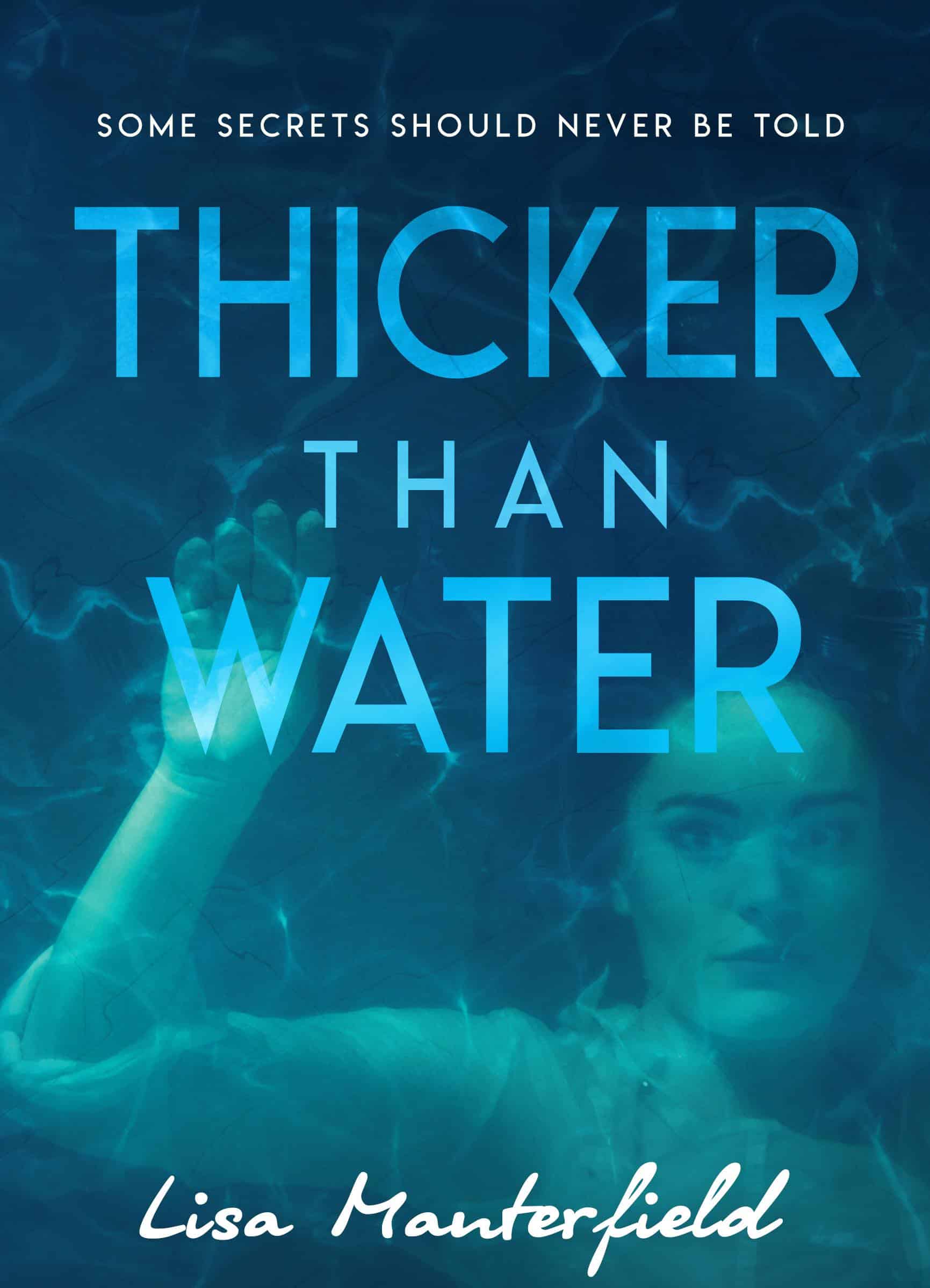 Isn't that gorgeous?!
And now for the excerpt…
The sound of a car grabbed everyone's attention.

"Dad's here," I said, popping up from my chair, never so relieved to hear him. I hurried out and met him in the kitchen. "The police are here."

His face darkened. "I don't like this," he said. "I don't like this one bit."

"What's happened?" I asked, but either he didn't hear me or didn't want to answer, because he moved towards the living door.

"Robert Kirkpatrick?" I heard Inspector Siddiqi ask.

"That's me," Dad said, with no trace of a smile in his voice.

"I wonder if we could have a word with you."

Dad hesitated, as if he'd been given another option and stepped inside.

My legs felt as if they'd been glued to the floor. Something bad had happened, I knew it. I slipped into Dad's shadow and followed him inside.

In the living room, Dad shook hands with both officers and took a seat in his favorite leather wingback, which creaked as it protested the load. He looked impeccable for a man with a dying wife who'd just come home to find the police on his doorstep. In his pressed collared shirt and neat khaki trousers, he looked like both a preppy student and a refined gentleman, simultaneously older and younger than his 48 years. Only the tumble of unruly curls over his collar gave any indication that anything was less than perfect in his world.

"Mr. Kirkpatrick," said Inspector Siddiqi. "I'm very sorry to bother you like this. I understand your wife is unwell and I realize this is a difficult time for you."

Dad waved his hand as if it was no bother at all, which we all knew wasn't true.

"There's no easy way to do this, so I'll just come out and say it. Some remains were discovered yesterday. A couple walking their dog spotted bones. Human bones. Based on preliminary evaluation, they appear to belong to a child, possibly female, estimated to be five or six years old." Inspector Siddiqi let the information hang in the room.

My breath caught and my stomach recoiled as if I had taken an unexpected punch. I saw the child, the little girl, saw her glossy black hair, heard her infectious giggle. I saw her dancing, skipping, spinning, swimming—always swimming. An image flashed of her pulling in a breath, blowing out the candles on a birthday cake, while I did the same beside her. Our sixth birthday, the last we'd shared together.

"Mr. Kirkpatrick," the inspector said. "You need to prepare yourself for the possibility that this could be Cassie."

Cassie.

In my mind, all the stories I had told myself unspooled—back through my teens, back through my childhood, back to the night eleven years ago that my twin sister had disappeared. I'd clung to my childish belief that, someday, she'd come home. Now, everything I believed, everything I had told myself, tilted with the weight of the truth. And as the pieces of my past slotted into place, my future began to fall apart. I was the surviving sister of a murdered girl and my life would never be the same again.
Ooooh…. I've got goosebumps!
---
Learn more about Lisa on her website, connect with her on Twitter, Pinterest, Instagram, Facebook, and Goodreads, and find out more about THE SMALLEST THING right here!
---
NOW don't forget to enter the contest for a chance to win a ton of print books by me, Sarah, and many more. To enter, you need to write down my favorite number, find all the other numbers on GOLD TEAM add them up, and you'll have the secret code to enter for the grand prize.
Need help?
In addition to the copy of The Magical History of Mermaids that I'm giving away to the GOLD TEAM winner, I'm also giving away more copies of this beautiful book right here! (I was honored to write the foreword for this, so it kind of counts as my book, right?) Open internationally.
a Rafflecopter giveaway

Good luck and happy hunting!
To continue on the GOLD TEAM hunt, you'll need to visit my good friend… SARA FUJIMURA.