Welcome to the Fall 2017 YA Scavenger Hunt
This doesn't feel much like a time for celebration. I live in Las Vegas and have family and friends who work in the live entertainment industry, so that makes this week particularly hard for me. But as a true theatre brat, I also know that the show (or, in this case, the YASH) must go on. The world keeps spinning, and those of us along for the ride have to do what we can to make it through. Today, that might mean enjoying a little light literary diversion in this time of darkness, sadness, and grief.
So let the hunt begin…

I'm your host for this stop on the PINK TIME hunt.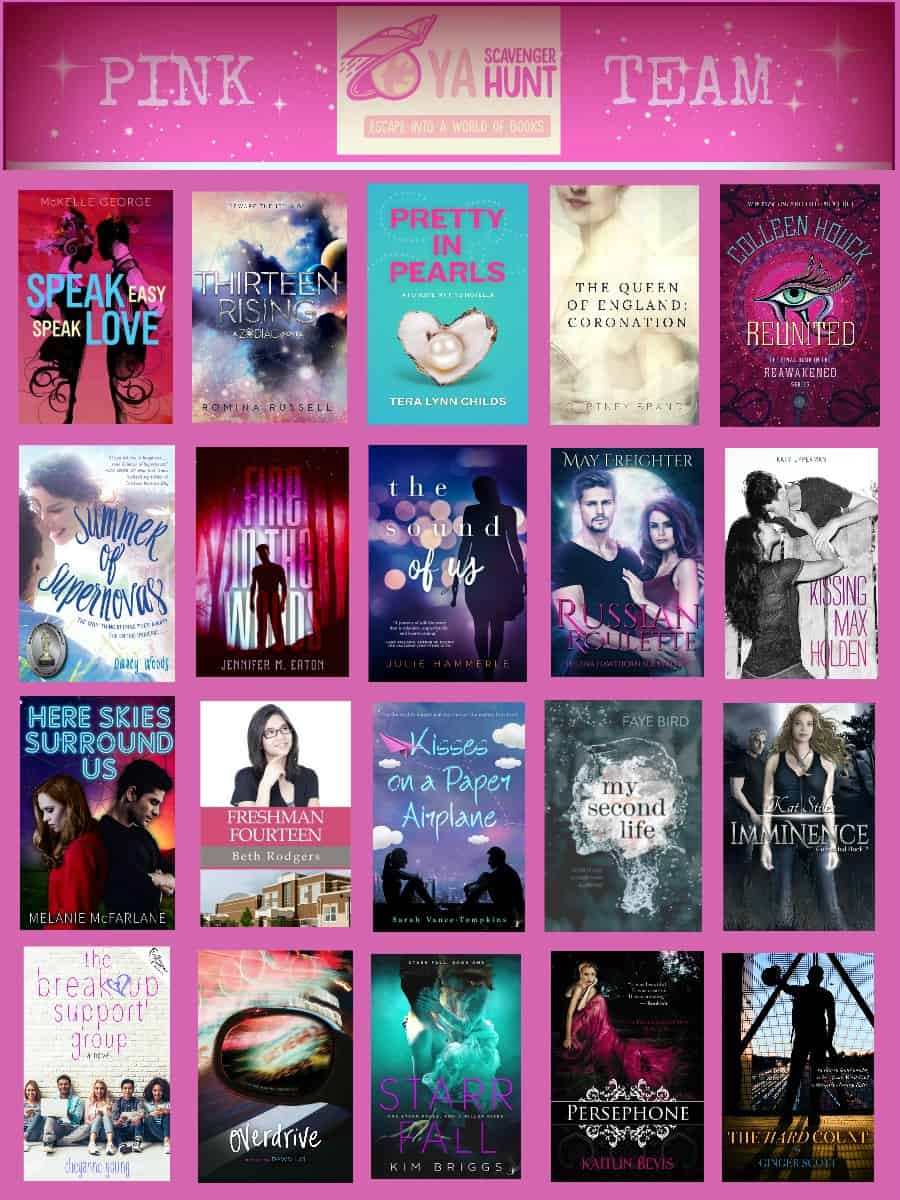 Are you looking for my exclusive bonus content? Well, you'll have to keep hunting. It's hiding somewhere in the pages of the pink team…
YA Scavenger Hunt Rules
Directions: Below, you'll notice that I've listed my favorite number. Collect the favorite numbers of all the authors on PINK TEAM, and then add them up (don't worry, you can use a calculator!)
HINT: THE SECRET NUMBER IS HIGHLIGHTED IN PINK
Entry Form: Once you've added up all the numbers, make sure you fill out the form to officially qualify for the grand prize. Only entries that have the correct number will be counted.
Rules: Open internationally, anyone below the age of 18 should have a parent or guardian's permission to enter. To be eligible for the grand prize, you must submit the completed entry form by SUNDAY, OCTOBER 8TH, at noon Pacific Time. Entries sent without the correct number or without contact information will not be considered.
On this hunt, you not only get access to exclusive content from each participating YA author, you also get a secret number. Add up the numbers, and enter it for a chance to win a major prize–one lucky winner will receive at least one print book from each author on my team in the hunt. But play fast. This contest (and all the exclusive bonus material) will only be online until noon PST on Sunday, October 8th.
There are SIX contests going on simultaneously, and you can enter one or all. I am a part of the PINK TEAM, but there are also RED,  GOLD, ORANGE, PURPLE, BLUE & GREEN teams. Check out each team for a chance to win up to seven different sets of signed books.
Find out more about the hunt, see links to all the authors participating, and see the full list of prizes up for grabs, the YA Scavenger Hunt page.
Now on to the hunt…
---
Today I am thrilled to host author KAITLIN BEVIS

Kaitlin Bevis spent her childhood curled up with a book and a pen. If the ending didn't agree with her, she rewrote it. Because she's always wanted to be a writer, she spent high school and college learning everything she could to achieve that goal. After graduating college with a BFA and Masters in English, Kaitlin went on to write The Daughters of Zeus series.
Check out her gorgeous book, PERSEPHONE

One day Persephone is an ordinary high school senior working at her mom's flower shop in Athens, Georgia. The next she's fighting off Boreas, the brutal god of Winter, and learning that she's a goddess—a rare daughter of the now-dead Zeus. Her goddess mom whisks her off to the Underworld to hide until Spring.

There she finds herself under the protection of handsome Hades, the god of the dead, and she's automatically married to him. It's the only way he can keep her safe. Older, wiser, and far more powerful than she, Hades isn't interested in becoming her lover, at least not anytime soon. But every time he rescues her from another of Boreas' schemes, they fall in love a little more. Will Hades ever admit his feelings for her?

Can she escape the grasp of Boreas' minions? The Underworld is a very cool place, but is it worth giving up her life in the realm of the living? Her goddess powers are developing some serious, kick-butt potential. She's going to fight back.
View On: Amazon | Barnes & Noble | Kobo | Audible | Goodreads
My secret number is 11.
Time for the bonus content…
---
Today Kaitlin is sharing her inspiration boards. (Click the images to see the boards on Pinterest.)
---
Find out more about Kaitlin on her website, connect with her on Twitter, Facebook, and Goodreads, and grab your copy of Persephone right here.
---
NOW don't forget to enter the contest for a chance to win a ton of print books by me, Kaitlin, and many more. To enter, you need to write down my favorite number, find all the other numbers on PINK TEAM add them up, and you'll have the secret code to enter for the grand prize.
Need help?
Instead of a bonus contest, this time around I'm just giving you a free book. You can win a print copy of Pretty in Pearls in the main PINK TEAM prize, but you can grab a free ebook copy right here, right now. No email address or anything else required. Just click the link and claim your book.
Good luck and happy hunting!
To continue on the PINK TEAM hunt you'll need to visit… KIM BRIGGS.