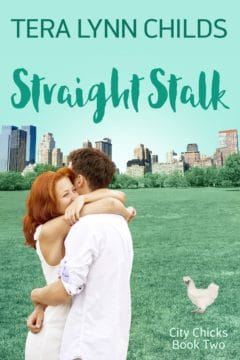 Get Your Copy
Straight Stalk
#2 in the City Chicks series
every girl deserves a little revenge…
Southern bell turned city girl shop owner, Bethany Lange knows a thing or two about gay men. She's dated five of them. On top of her failed dating life, she's trying to keep her SoHo boutique ahead of the creditors and on top of the trends. When a friend offers her a consulting job on a new gay makeover show, she snatches up the golden opportunity faster than you can say, "Never wear stripes with paisley."
Color her déjà blue when one of the cast members turns out to be her latest ex. She doesn't believe for a second that he's gay and she's going to prove it, even if she has to stalk him to get the proof. In the meantime, she's battling a growing attraction to Chris, the show's kitchen god. He's sweet, sexy, and funny. The perfect guy… if only he weren't gay.
As the stalking and her attraction to Chris escalate, can Bethany prove to herself, once and for all, that she's not the closet cleaner she fears she's become? Can she stop falling for unavailable guys and find one that's a lifetime keeper? Only time—and stalking—will tell.
Reviews
a perfect romantic comedy that manages to capture it's own attention in a genre littered with cliches. … I thoroughly enjoyed reading Straight Stalk, a fun novel and a perfect summer read. The big city setting is perfect for these kinds of romances, and the writing is wonderful – with fantastic dialogue from sure-to-be interesting characters. I cannot wait to read more.
Straight Stalk has the same carefree, fun vibe as book one. … I think the best part of the book was the way the romantic relationship was handled. The book is a romantic comedy, and you see the actual relationship happening from the very beginning, so you know two people are going to fall in love. But what I like best about it was the way it felt very real.
In this Series