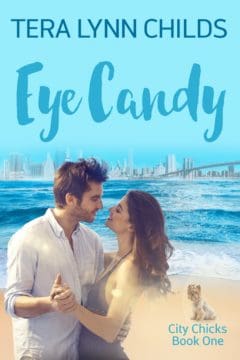 Get Your Copy
Eye Candy
#1 in the City Chicks series
every girl deserves something sweet…
Lydia Vanderwalk has an obsession with candy, so when she invents an NEB (non-existent boyfriend) who turns out to be the male hire-a-date equivalent of a jumbo box of Hot Tamales she knows she's in trouble.
Lydia has worked hard to have the right job, the right wardrobe, and the right everything else, in the quest for the appearance of perfection. When she needs her NEB for a golden career opportunity, she enlists a talent agent friend's help to produce perfect date Phelps. He was supposed to be pure eye candy, but there's more going on beneath the surface than Red Hots looks and Pop Rocks spontaneity.
Throw in a banking wunderkind ex-fiancé, a trio of cutthroat couture-climbers, and a designer of questionable orientation and origin, and Lydia soon learns that what you see is often much less than what you get when it comes to people and not everything in life can be solved by a Jolly Rancher and a shopping spree.
Reviews
a romance that's just as SWEET AND ADDICTING as candy, without the high sugar content … I was able to devour this novel in one sitting, falling in love with the fun, witty dialogue and steamy romance. … fun, flirty and absolutely delicious. It is a perfect light summer read to bring along on the beach, and I thoroughly enjoyed it.
This book was WELL WRITTEN AND ENTERTAINING. It had tons of humor, a cute budding romance rivaling an already established connection, and a whole lot of fun. If you are looking for a cute, romance story then try this one.
In this Series